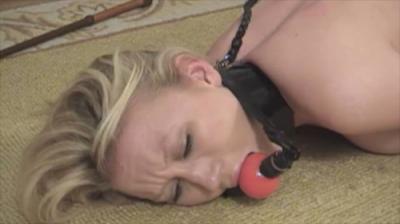 Country: USA
Genre: BDSM, slave, hardcore, blowjob
Duration: 01:10:51
Studio: PRO VILLAIN PRODUCTIONS
Cast: Madison Scott
Description: Sexy Supermodel Madison Scott thinks she's too good for Tim, but he breaks into her apartment and forces her to strip at gunpoint, then handcuffs her, collars her, rapes her ass, then makes her lick his cock and balls while he presses his gun to her face. Damn, he didn't even buy her dinner first!
Later Madison is in Tim's dungeon, hands cuffed overhead, getting whipped with the Dragon's Tongue. Tim applies cruel clamps to her sensitive nipples and tit-fucks her as she looks helplessly up at him. Finally he forces his cock into her mouth, using her for his pleasure before leaving her there with the whip clenched in her teeth to await her next torment…
We return to find Madison on all-fours, bound and blindfolded. She thought the dragontongue was rough, but now she has to endure Tim's snakewhip across her back. He makes her beg for mercy, then fucks her ass, holding her leash across her mouth like reins as he rides her unwilling body. He makes her lick his cock clean from her ass, but she does so well he decides to fuck her again, staring down at the angry red stripes across her abused flesh…
Madison is learning to be a good slave. She kneels, riding-crop in her teeth, awaiting her Master's pleasure. She licks his feet as he smacks her ass, then sucks his cock, kneeling obediently before him. Gotta say, I LOVED shooting this one!
Tim finishes training his new slave Madison, whipping and raping her ass hard and fierce while she drools around her ball-gag. Then he lets her kneel before him as he pierces her nipples with shiny rings. Finally it's one more forced blowjob, ending up with a creamy blast of hot cum right across her breasts!


Video quality: WEB-DL
Video Format: MP4
Video: MPEG4 Video (H264) 960×540 29.97fps 2332kbps [V: h264 high L3.1, yuv420p, 960×540, 2332 kb/s]
Audio: AAC 48000Hz stereo 251kbps [A: SoundHandler (aac lc, 48000 Hz, stereo, 251 kb/s)]